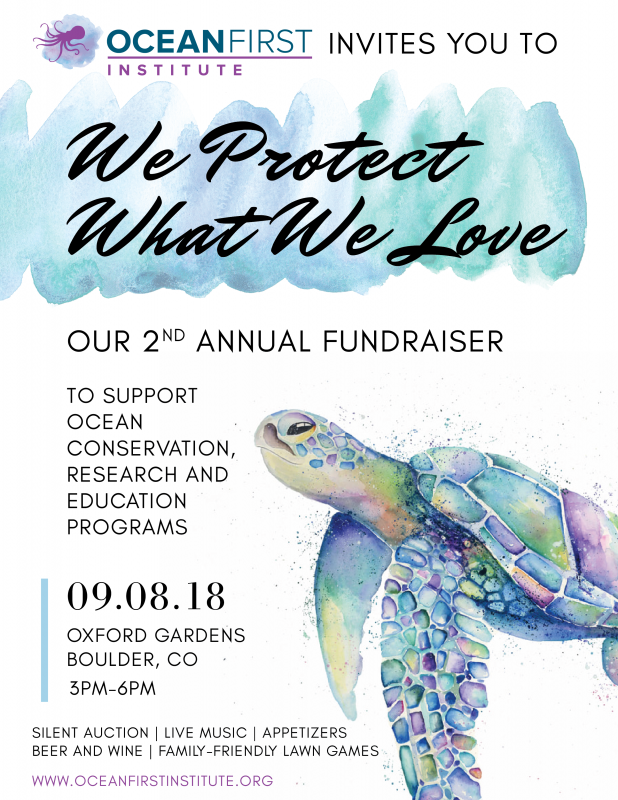 Show your love of the ocean by being a part of Ocean First Institute's 2nd Annual Fundraiser!

Our mission is ocean conservation through research and education. Through the support of our members and volunteers, we connect people to the ocean and to inspire them to take action to keep our ocean healthy. In the past three years, our in-school programs have reached 4,400 students in 39 schools within Colorado. Our virtual outreach programs have reached over 106,000 students in 4,111 classrooms in 35 countries and 44 U.S. states! Our ocean conservation programs and message of action is spreading. Now we need your help to continue to magnify the impact of our research and education programs. Click here for more information on our FB events page.
Join the Ocean First Institute team and Board of Directors for an ocean celebration and the closing of our online auction on Sept. 8th at the beautiful Oxford Gardens situated just minutes from Boulder. There will be free appetizers and drinks, live music, and family friendly games. And even if you are out of town, you can still support OFI by bidding in our online silent auction, no matter where you are, until Sept. 8th at 6 PM MST!
Check out some of the incredible items, including a diving trip to Florida, art by Wyland, a 3-night stay in Winter Park, tickets to the 2019 Folks Festival, and much more!
LOCATION: 10145 Oxford Road, Longmont, CO 80544
TIME: 3:00-6:00 PM
COST: Free!
Special thanks to our sponsors!

And thanks to our silent auction sponsors!