Rockies to Reefs
Saturday, September, 21, 2019 from 5-8 PM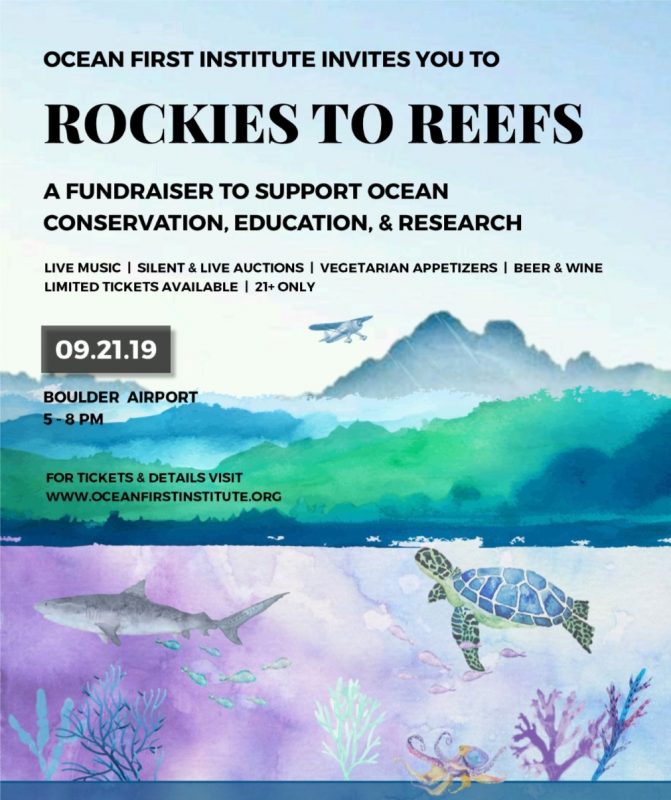 Tickets for Rockies to Reefs will go on sale soon!
And check back for our silent auction preview on August 5, 2019.
Show your love of the ocean by being a part of Ocean First Institute's 3rd Annual Fundraiser!

Our mission is ocean conservation through research and education. Through the support of our members and volunteers, we connect people to the ocean and inspire them to take action to keep our ocean healthy. Since 2014, our in-school programs have reached over 6,000 students in 39 schools within Colorado. Our virtual outreach programs have reached over 107,000 students in 4,111 classrooms in 35 countries and 44 U.S. states! Our ocean conservation programs and message of action is spreading. Now we need your help to continue to magnify the impact of our research and education programs.
Join the Ocean First Institute team and Board of Directors for an ocean celebration on Sept. 21st at the Boulder Municipal Airport. There will be live music, vegetarian appetizers, beer and wine, silent and live auctions, and incredible guest speakers! Limited tickets available, so stay tuned for tickets to go on sale on June 21st.
And even if you are out of town, you can still support OFI by bidding in our online silent auction, no matter where you are, until Sept. 21st at 8 PM MST. Check out some of the incredible items here when the preview starts on August 5th.
LOCATION: Journeys Aviation, 3335 Airport Rd., Boulder, CO 80301
DATE: Saturday, September 21, 2019
TIME: 5:00-8:00 PM
COST: $50/person
Your $50 ticket includes:
Entry to a raffle to win a free trip to Cozumel, courtesy of Ocean First
Guest speakers, Dr. Ulyana N. Horodyskyj and Mehgan Heaney-Grier!
Commemorative 2019 Rockies to Reefs drinkware
Vegetarian appetizers provided by The Post Brewing Co. and more
Organic wine provided by Integrated Beverage Group
Local beer provided by City Star Brewing and Redgarden Restaurant and Brewery
Live music from By The Lee
Access to exclusive auction items
Support to Ocean First Institute's local school marine science programs!
Tickets can be purchased here soon!
Special thanks to our event sponsors!

And thanks to our silent auction sponsors!
For questions, or interest in tickets or sponsorships, please contact OFI's Director of Outreach at lauren(at)oceanfirstinstitute.org.