MARINE SCIENCE SUMMER CAMPS
***COVID-19 Update***
As of right now, our summer camps will run as scheduled. We are hopeful that the efforts to mitigate the virus will allow us to continue our summer programming without any changes, delays, or cancellations. We are following the recommendations set forth by the Colorado Department of Public Health and Environment and the Centers for Disease Control and Prevention. We will continue to monitor the situation, assess risks, make informed decisions, and communicate with you all about any changes in the weeks ahead.
Ocean First Institute offers unique summer camps for hands-on ocean adventure, right in the mountains of Colorado! Available for students entering grades 3rd-8th, members can choose from several camps: Girls in in Ocean Science, Ocean Science, Marine Conservation, and Ocean Research & Technology. Camp members will swim through our "kelp forest" in the OF pool, virtually dive through coral reefs in Indonesia, build their own underwater robots or current/wind turbines, meet incredible marine biologists, and so much more! Each camp is run by staff scientists who will share their knowledge of the marine world, while instilling a sense of wonder for the ocean through interactive learning and fun!
WHO: Students entering grades 3rd-8th
WHEN: Monday to Friday select weeks from June 8th-August 7th
9 AM to 12 PM (AM camp) and/or 12:30 PM to 3:30 PM (PM camp)
WHERE: 3015 Bluff St., Boulder, CO
COST: $225/camp (save $55 when you sign up for 2 camps)
REGISTRATION NOW OPEN FOR 2020 SUMMER CAMPS!
Limited spaces available, so sign-up today! Partial and full scholarships available for those that qualify (scholarship application here). For more information or to register, email lauren(at)oceanfirstinstitute.org. Please note, payments and emails must go through Ocean First Institute, rather than the Ocean First dive shop. Thank you!
2020 Summer Camp Registration form here
Ocean First Institute Summer Camp features:
Engaging, hands-on activities that are informative and fun (including snorkel sessions!)
Opportunities to explore a variety of STEM topics and careers
Enthusiastic, knowledgeable, and experienced instructors, including staff marine biologists
Individualized attention and small camp sizes (maximum 5:1 ratio with an average camp size of 10 camp members!)
Ocean First Institute Summer Camp Schedule 2020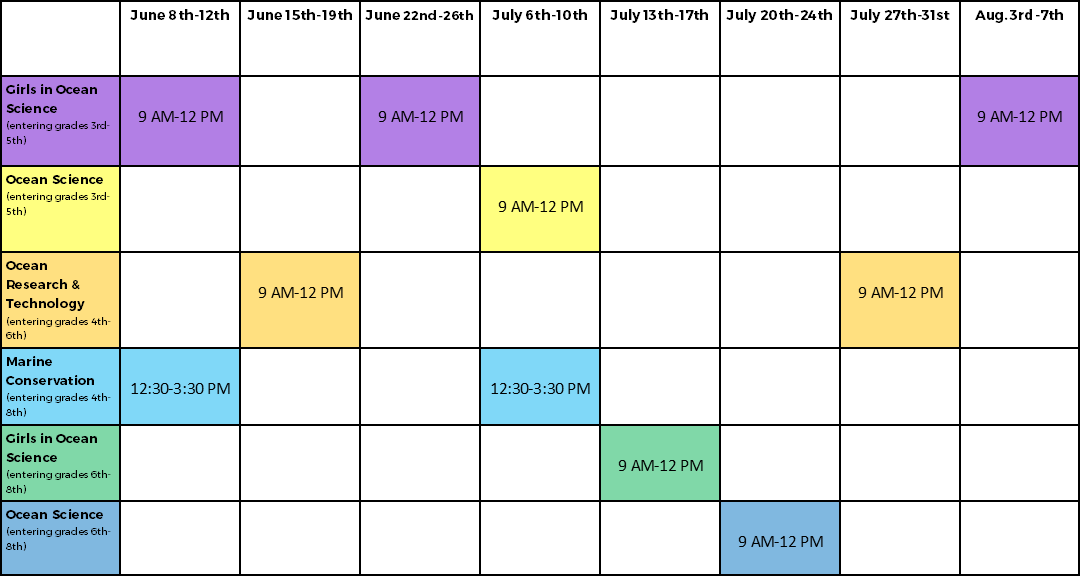 "She loved the science, and the instructors. We will be back!!"
- Summer Camp Parent