VIRTUAL MARINE SCIENCE SUMMER CAMPS
Ocean First Institute prides itself on offering unique, hands-on ocean science summer camps for campers in elementary and middle school — this year will be no different, though our camps will run virtually. Our half-day Ocean Science, Marine Conservation, and Girls in Ocean Science summer camps will take place throughout the summer, hosted virtually on Zoom. With daily interactions with our trained staff and special guest speakers, creative at-home science activities, and a special kit of materials delivered to your home prior to camp (or available for pickup in Boulder 10 days prior to the camp start date), OFI is committed to providing an engaging, educational, and inspiring camp experience — even at a distance.
WHO: Students entering grades 3rd-8th
WHEN: Monday to Friday select weeks from June 8th-August 7th
9 AM to 12 PM (AM camp) and/or 12:30 PM to 3:30 PM (PM camp)
(All camps are in Mountain Time)
WHERE: Zoom (secure & protected links provided 1 week before camp)
COST: $125/camp (or $225 for two camps)
REGISTRATION NOW OPEN FOR 2020 SUMMER CAMPS!
Limited spaces available, so sign-up today! Partial and full scholarships available for those that qualify (scholarship application here). Registration for all camps will close 10 days before the camp begins to allow time to create the supply kits. For more information or to register, email lauren(at)oceanfirstinstitute.org.


Ocean First Institute 2020 Virtual Summer Camp Registration form here
*Please note - download the form prior to filling out the registration details
Ocean First Institute Summer Camp features (see Virtual Camp FAQs for more details):
1.5-2 hours per day of live, virtual interaction with our experienced, enthusiastic ocean science educators, scientists, and special guest speakers
1-1.5 hours of offline, at-home activities that get your camper outside, moving, and experimenting!
All the materials needed for our at-home activities, available for pickup in Boulder or delivered to your doorstop (shipping is an additional fee, $8-$15)
Engaging, hands-on activities that are informative and fun (both during live sessions and offline)
Opportunities to explore a variety of STEM topics and careers in a fun, interdisciplinary environment
Individualized attention and small camp sizes (maximum of 10 camp members)
Additional activities, videos, and opportunities for exploring the ocean all summer long!
Ocean First Institute Summer Camp Schedule 2020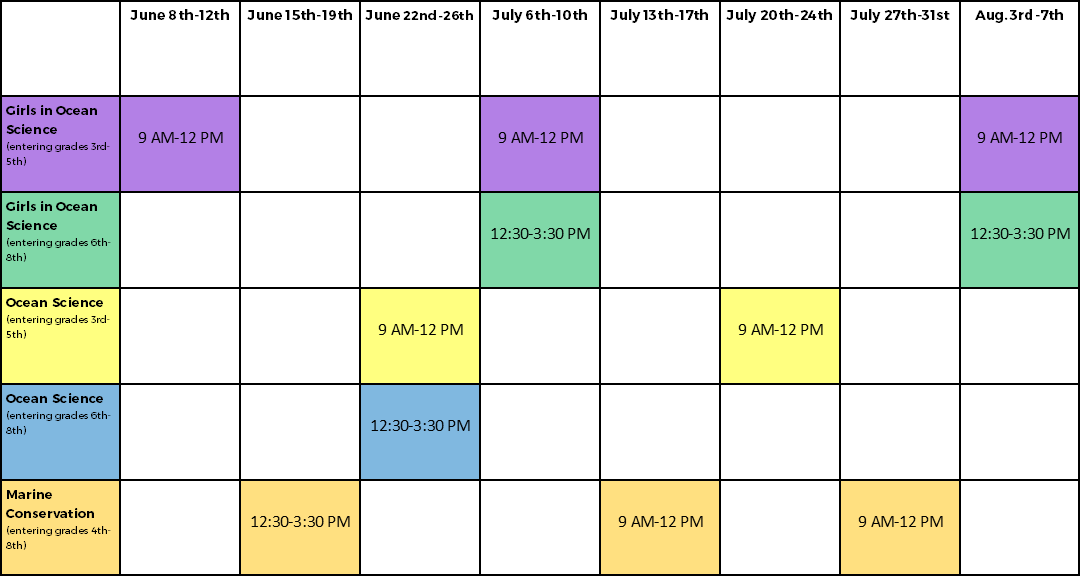 PARENT TESTIMONIALS

"...it was amazing. The staff was so present and energetic for all of the kids. It ALMOST did not feel online!!"
"...each day was something new. I was interested to see how engaged she would be for that long of time, but the breaks with specific activities worked beautifully. What a well thought out program."
If you would like to support OFI's Summer Camp Scholarship Fund, and provide new opportunities for future ocean advocates and explorers, please donate here. Thank you!