Guest blog post by Jeff Blumenfeld, founder of Expedition News and chairman of the Rocky Mt. chapter of The Explorers Club. Post originally appeared on Expedition News.
You couldn't be much further from the ocean, and sharks, than Colorado. Yet it's here that the Ocean First Institute in Boulder has become one of the marine animal's most fervent benefactors.
Leading the charge for the species is Dr. Mikki McComb-Kobza, 49, one of the top shark experts in the world and a tireless advocate for sharks and shark habitat. As a shark biologist, her work focuses on the sensory biology and ecological physiology of sharks, skates and rays. She seeks to highlight their global population decline and to frame new directions for their conservation.
Dr. Mikki McComb-Kobza never met a shark she didn't like. Photo Credit: Jeff Blumenfeld.
Inspired by the 1975 Steven Spielberg movie Jaws, she began to read about the animal and became hooked for life, learning to dive so she could spend more time with them underwater. She's now dedicated to, as she told an Explorers Club audience, "sharing the truth about sharks."
She says, "The story of sharks is the story of survival. They have survived five mass extinction events on earth. The over 500 species of sharks predate the dinosaur. When we study them, we're looking back in time."

Explorers Club Talk with Dr. Mikki McComb-Kobza, Jeff Blumenfeld, and Don Chenoweth. Photo Credit: Expedition News.
It's also the story of diversity. She explains that sharks range in size from the small dwarf lanternshark, a deep sea species of only 17 cm (6.7 in) in length, to the whale shark, the largest fish in the world, which reaches approximately 12 m (40-ft.) in length.
Her favorite is the hammerhead consisting of over 10 species. Its unique shape is hydrodynamic, extremely maneuverable, and can be used to detect and pin prey, "which is helpful when feeding on stingrays."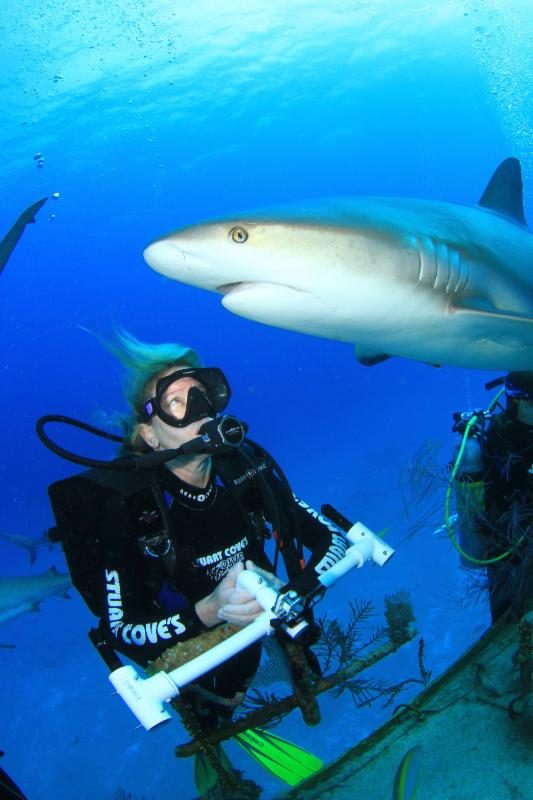 Here's looking at you kid. Photo Credit: Ocean First Institute.
McComb-Kobza speaks, teaches and conducts research around the world including in South America, Africa, Asia and Australia. Her outreach efforts have been covered by the BBC, National Geographic, Discovery Channel's Shark Week, and CBC National Radio Canada. She holds a Ph.D. in Integrative Biology from Florida Atlantic University and is the author of numerous scientific publications.
Her current position as executive director of Ocean First Institute allows her to promote research, conservation, and sustainability. The Institute supports expeditions and a variety of education initiatives that reach students of all ages. These days she's active in establishing marine protected areas in known shark nurseries where, she says, "sharks need extra protections to ensure their survival."
One challenge is to help people overcome their deep-seated fear of sharks. "Sharks are timid, they're leery. I found an animal that surprised me," she says.
"For instance, the male sharks bite into females during copulation. As you can imagine, it's a pretty brutal affair."
McComb-Kobza, who admits to not eating seafood and is disappointed about the scourge of shark finning in Asia, adds, "We believe that when people experience how the ocean impacts their lives they begin to understand. When they understand they begin to care, and when they care they begin to act to protect. This is the change we are creating and is the cornerstone of everything we do."
She adds, "Protecting sharks is an uphill battle, but happily, kids think sharks are rock stars, right up there with dinosaurs."
Thanks to her work and that of the Ocean First Institute, to borrow from the iconic movie, maybe we don't need a bigger boat after all.
Jeff Blumenfeld founded Expedition News in 1994, a monthly online review of significant expeditions, research projects and newsworthy adventures. He also runs an adventure marketing company in Boulder, Colo., and is chairman of the Rocky Mt. chapter of The Explorers Club (explorers.org), the international multidisciplinary professional society founded in 1904 and dedicated to the advancement of field research and the ideal that it is vital to preserve the instinct to explore. His book, "Get Sponsored" (Skyhorse, 2014) has been featured in over 40 book talks that he's given nationwide. He's also fluent in Morse code but admits that doesn't come up too often in conversation. (expeditionnews.com, blumenfeldpr.com)