Blog post by Dr. Mikki McComb-Kobza, shark biologist and Ocean First Institute's Executive Director.
It was an incredible experience and one that none of us will ever forget. – Dr. Mikki
I just returned from an exciting expedition in South Florida with 11 middle and high school students from Colorado and one from Canada. The trip was set up so that we would be able to conduct research on sea turtles and sharks. At around 9 o'clock on our first night we all walked out onto Juno Beach, with the hope of seeing a female loggerhead sea turtle come onto the beach to lay her eggs. Researchers from Loggerhead Marine Life Center confirmed there was a female coming onto the beach and our group went out to see her under the moonlight. It was nothing short of mesmerizing. There she was, a large female, sweeping the sand out with her rear flippers, making a deep hole in which she would then lay her eggs. We saw the eggs drop and then saw her painstakingly cover the eggs. After over an hour of hard work, she turned and returned to the sea. Just as sea turtles have been doing for millions of years. It was extraordinary. The next day we toured the sea turtle hospital and rehabilitation center. We got up close and personal with the sea turtle patients who were there as a result of being struck by boats, ingesting plastic, and due to shark bites.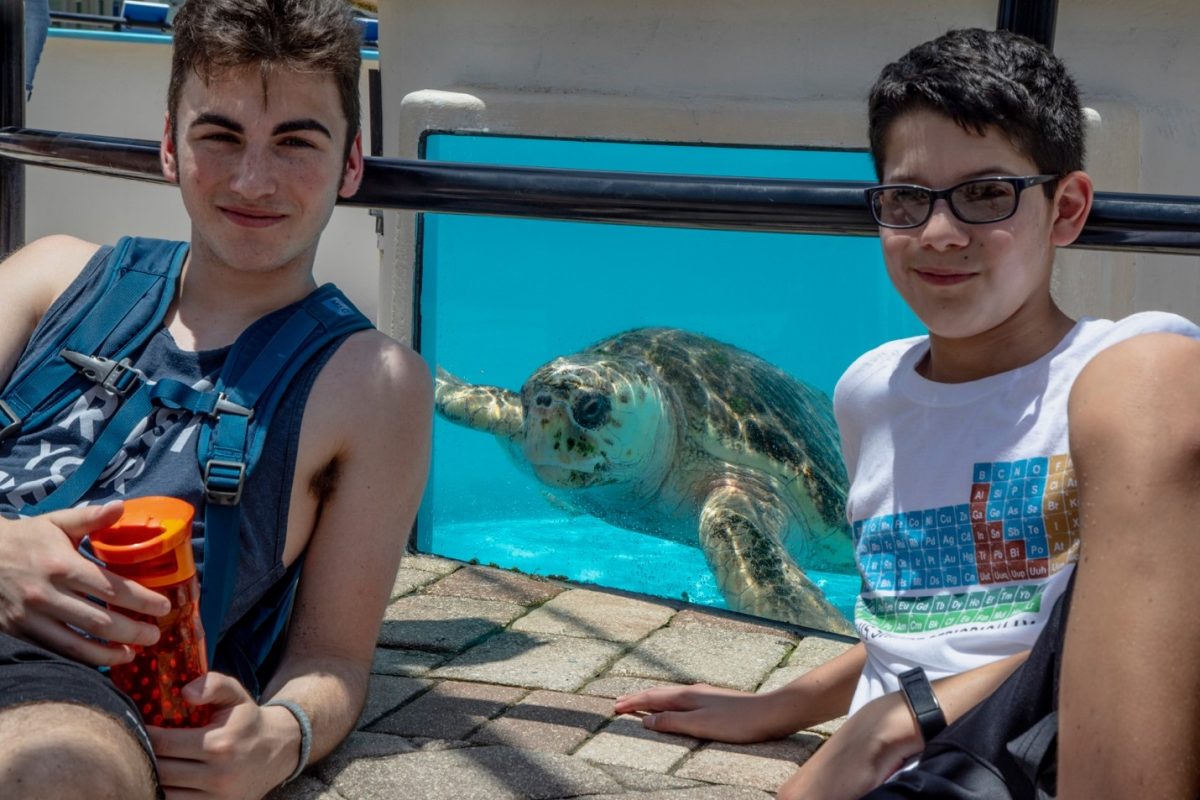 Over 100 sea turtle patients and 1,000 sea turtle hatchlings are treated every year at the Loggerhead Marine Life Center. Photo Credit: Ocean First Institute.
The researchers at Loggerhead Marine Life center work hard to rehabilitate and release these sea turtles. You can see patients with their live camera here. After seeing the patients, we headed out with a researcher to investigate a sea turtle nest that had hatched out three days before. When she dug it out to collect information on how many turtles had hatched, she discovered 11 hatchlings that had been trapped in a side pocket in the sand. They were alive! We were able to release them and it was such a joy watching them head to the water. It was now time to head south to Miami to work on sharks.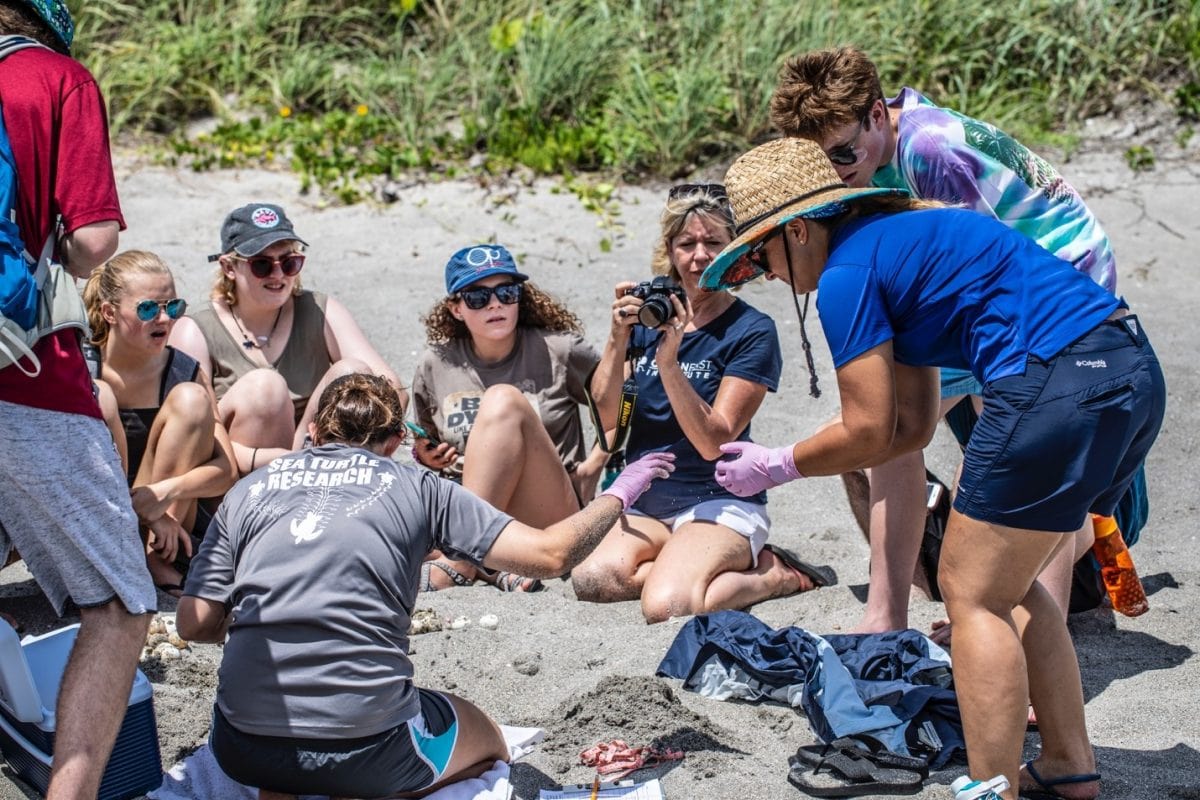 Discovering hatchlings inside a nest. Photo Credit: Dr. Lindsey Dougherty.
We made it Miami early in the morning, boarded the research vessel Garvin, and met the Field School staff. They are a group of shark scientists dedicated to sharing their work and training the next generation of researchers. We had three days onboard and our goal was to fish for sharks right off Miami, bring them to the boat, safely collect data, tag them with ID tags, and quickly let them go. On our first day we set drum lines, which is a method of fishing that allows sharks to continue to swim once caught on the fishing line. This technique minimizes the stress on the sharks. Once the bait is set, it's time to wait. And wait we did.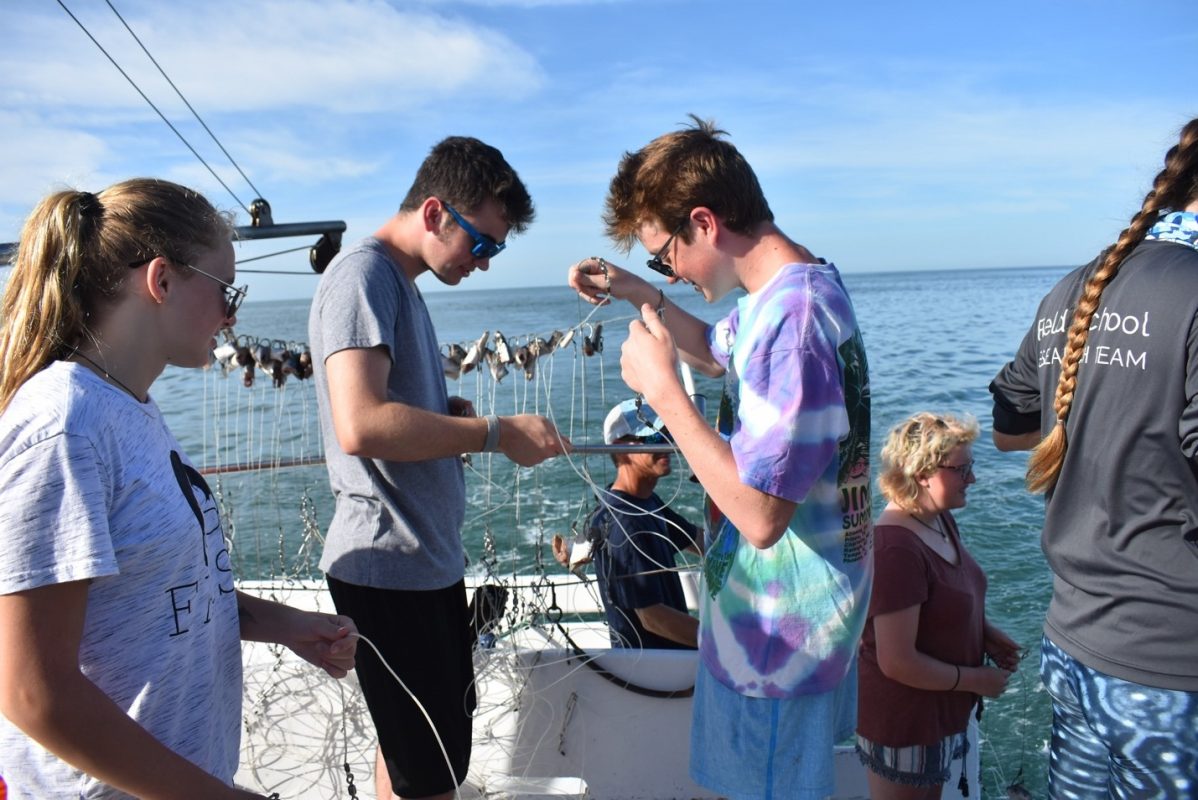 Setting the lines along the Research Vessel Garvin. Photo Credit: Ocean First Institute.
There was real excitement brewing as we had no idea what we might catch. A big hammerhead, a black tip, a bull shark, or maybe even a tiger shark? You just never know. It was time to pull it all in. One by one we pulled in the lines. Then bam. Catherine shouted out "Shark On"! Everyone had been trained on their jobs and positions, and like a well-oiled machine, everyone got into position. As the shark got closer to the back of the boat, someone yelled "It's a tiger shark, a tiger"! None of us could believe our eyes. A tiger shark was right there. I have to say, despite working in the field for over 20 years, I was surprised and so happy! Students jumped in and took fin clips for DNA analysis, measured the shark, and helped as blood was drawn for hormonal analysis.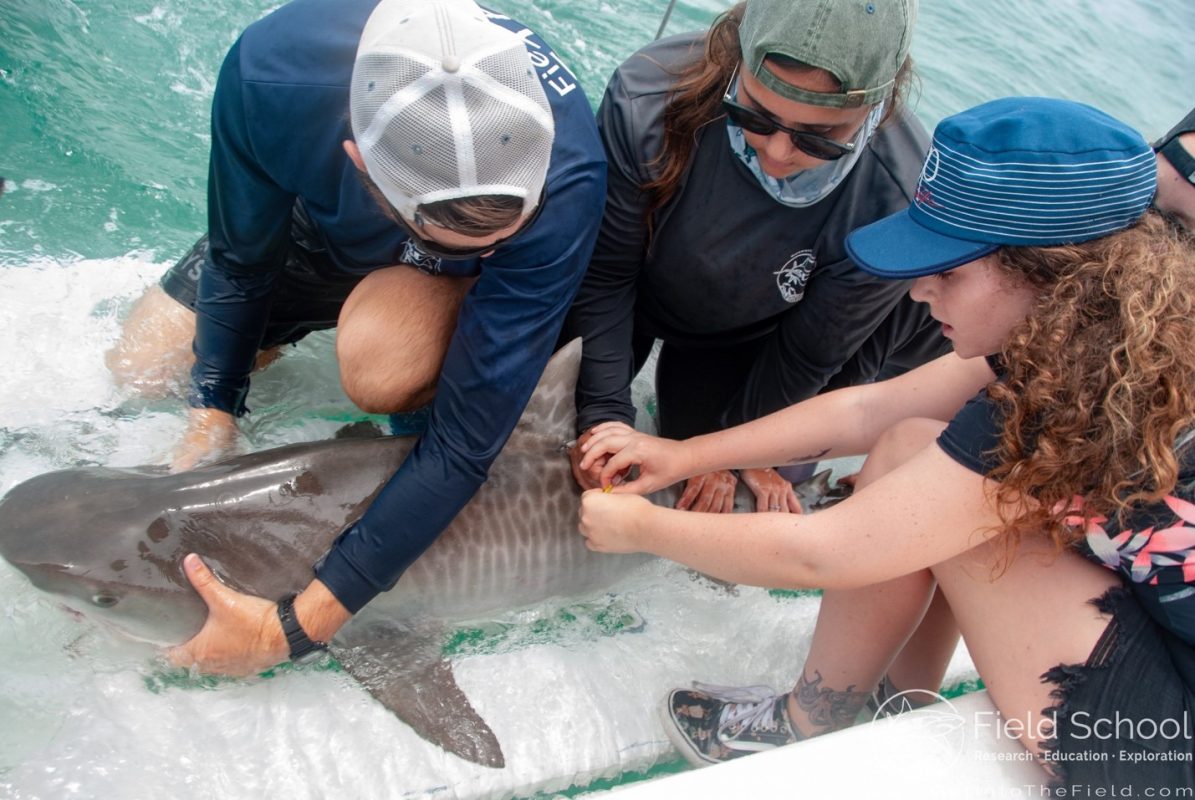 Collecting data from a tiger shark. Photo Credit: Field School.
The shark already had a tag and it was confirmed that she had been captured a mere 4 months before by the team. In that short time her girth increased by 14 cm! She bulked up. Over the course of the next 2 days we landed and tagged black tips, black nose, and nurse sharks. It was an incredible experience and one that none of us will ever forget.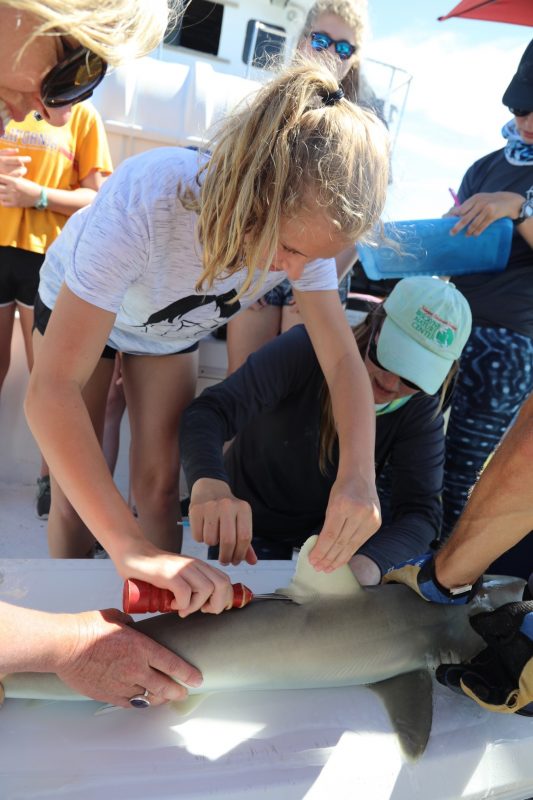 Photo Credit: Ocean First Institute.
If you want to join us on our next student adventure, let us know. We are planning three expeditions next summer and will be announcing the details of those trips soon! Contact us at info(at)oceanfirstinstitute.org for any questions or to receive updates.