Blog post written by Dr. Mikki McComb-Kobza, Director of Ocean First Institute
I have just returned from leading 16 students on a week-long expedition to Belize. I have been leading trips for many years and I have to say this was the best one I have ever been part of. The story of how this trip was created started many years ago. Late in 2013, I was presenting at a National Science conference in Denver and met a kindred spirit, Paul Belanger. Both of us talked endlessly about our one passion. Connecting young people with nature and how that lends effortlessly to curiosity and science. Paul's job was doing just that – working for Global Doing Good – taking students on incredible adventures all over the world and letting them see what science is really all about. My job at Ocean First Institute was taking students to the ocean to do the same thing. We began working together to craft our own trips including one that began in the Monteverde cloud forest of Costa Rica ending on the Guanacaste coast touching the Pacific Ocean. We wanted to do yet another trip highlighting research and our passion for the ocean. So we chose Belize. The whole goal was to expose students to the rigors of marine science field research and to let them participate in collecting data with many different experts.
On our trip to Belize we had 16 students coming from Montana, Colorado and Pennsylvania. Not all of them knew each other but the excitement of the trip had all of us all chattering when we first met at the airport. After a long day of travelling from multiple origins we made it to Belize City. We then took transport to our scuba diving shop and home of our research liaison, EcoMar and the Oceanic Society. We were whisked onto a large boat and headed out to our home for the next 5 days, St. George's Island, the old Capital of Belize. We made it to the research station and settled in. Then we all headed out on the boat again for snorkeling orientation. We saw a lesser electric ray and a huge southern stingray. It was beautiful and we saw the sun go down while we were swimming in the Caribbean Sea.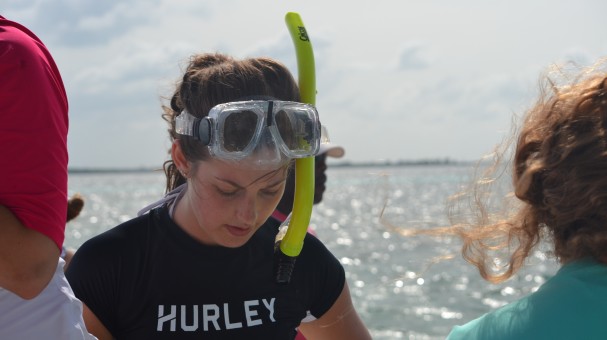 Snorkeling within hours of arriving in beautiful Belize!
Our first full day on the island was busy! We had a tour of the Island and learned all about its history and the many battles that occurred there between the English and Spanish. England won and that is why Belize is an English speaking country. The island is immortalized on the countries 5-dollar bill and there is a national holiday to celebrate the victory. After we learned about the island's history we turned our sights to the water. Paul and I split into 2 groups and one group went snorkeling on a nearby coral reef, while the other group got onto the research boat with Eric Ramos, a dolphin and manatee researcher with the Oceanic Society. We set out to track the locations and movements of resident manatees and dolphins. Eric has been studying these animals for several years and knows individuals and is trying to understand their vocalizations and movements. He is also an avid conservationist and his research goals include helping the local communities protect these species from harm. Many manatees are struck by boats that are moving too fast and Eric is working to identify manatee "hot spots" and nursery areas that should be afforded special protection. He uses a drone to fly high over the boat to help spot the animals and uses the drone footage to identify individuals and their behaviors. This new technology is opening up an unprecedented glimpse into the life of these difficult to observe marine species. We also had an underwater listening device, called a hydrophone that we deployed underwater when we had an animal sighting close by. We could actually hear the dolphin and manatee sounds through a speaker on the boat. It was an exciting day and we did see several manatees in the afternoon and were able to record data.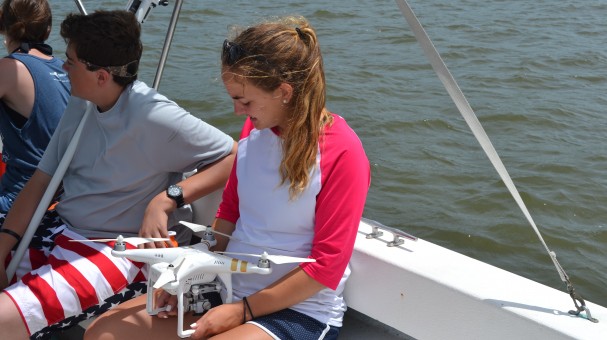 Getting the drone ready to be airborne in search of manatees and dolphins in the area.
Our second day was even more full than the first! Paul and I split into 2 groups again and one did dolphin and manatee surveys again while the other did conch surveys. Conch is a large shelled snail that lives in the seagrass and is a vital part of Belize's national fishery export. Conch meat, lobsters, and fish species bring in the most money and is strictly monitored and has an annual quota. We were able to go out and run 30 meter underwater transect lines and monitor the presence and measurements of live conch. It was so much fun and we found many. We also saw a bunch of manatees today near the mouth of the Belize river. They like to be there because manatees need to drink fresh water and this is a great source for them. The drone spotted over 12 individuals and a dolphin too! We were able to record all of the data and record the vocalizations of the manatees and the one dolphin with the hydrophone. It was an incredible day.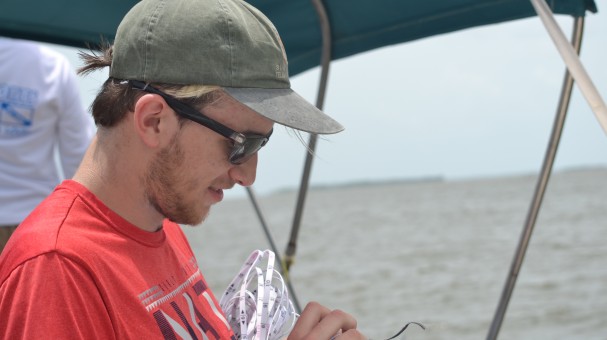 Collecting depth, salinity and wind speed at the manatee site.
Our third day was pure magic. Paul and I, all the students, and research staff boarded the big boat and headed out to several sites, including Hol Chan which is a marine reserve established in 1987. Our first stop we got into the water and got to swim next to a beautiful manatee in crystal clear water. Everyone was so amazed at how graceful and seemingly curious the manatee was. After a little while we moved to the next spot which was Hol Chan. Nothing could have prepared us for what we were about to see. It was incredible. The colors of the reef, the beauty of the coral and the abundance of fish and wildlife. It was supreme and we were all in awe. We saw huge stands of Elkhorn coral that were pristine. I literally had tears in my eyes as I have not seen healthy Elkhorn like this for decades. Many of us, including me, were yelling through our snorkels with excitement. We saw the huge flapping wings of a spotted eagle ray, a shy green moray eel, puffer fish, queen angelfish, and many curious nurse sharks. We even saw a green sea turtle resting and eating his favorite seagrass. It was very hard to get back on the boat and head out. But there was more in store for us.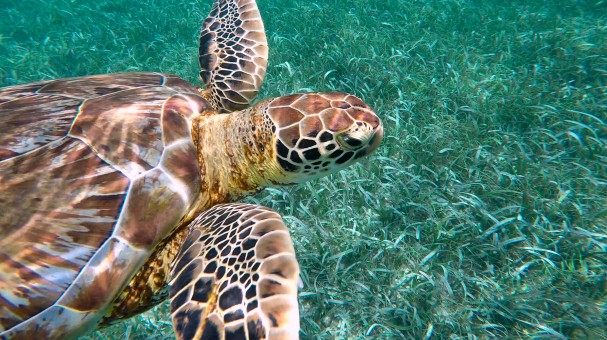 A green sea turtle soon rested on the bottom and began eating its favorite sea grass. 
We headed to a site that was home to a bunch of nurse sharks. It's a site where some people feed the sharks. We didn't participate in feeding but did see how that has altered their natural behavior. The minute we showed up at the site we were surrounded by very curious nurse sharks. All looking for some free nibbles. We didn't have any but we did jump into heavy shark water! The students were nervous and thrilled all at the same time.
Click to see shark video here.
Nurse sharks are quite harmless and have tiny teeth that are used to crush crabs and lobsters which are their favorite food. As long as you give them respect and room swimming with these sharks is fine. It was such a great thing for me to see. I have dedicated my life to changing people's perceptions about sharks and here I am with 16 young students swimming happily along with me and the sharks. This is what makes life so wonderful. Paul took over guiding the group as I was so happy to swim all over with the sharks and rays. I was the last to get out of the water and it was hard for me to say goodbye to my new shark friends. But we had even more to see. We found one more site and jumped in. Our guide found exactly who we were looking for. A large loggerhead sea turtle. It was a great ending to a day I won't soon forget. I know I am not alone in that.
All of us giving the signal that we just swam with sharks!
Our stay with EcoMar ended with Linda and Nidia, our amazing guides and marine biologists challenging us to think about the effectiveness of Marine Reserves. Did we see more abundant wildlife in the reserve than other unprotected sites? Should we protect the spots that had lot of life or the ones that seemed less abundant? We had group discussions and it was truly wonderful to see how much we had learned and to recognize that in the short few days we had become knowledgeable local citizens. It was a powerful message and resonated with the students. Know your place, know how to help. Take these lessons home with you, because you can make a difference wherever you are for the fate of wildlife. Stand up.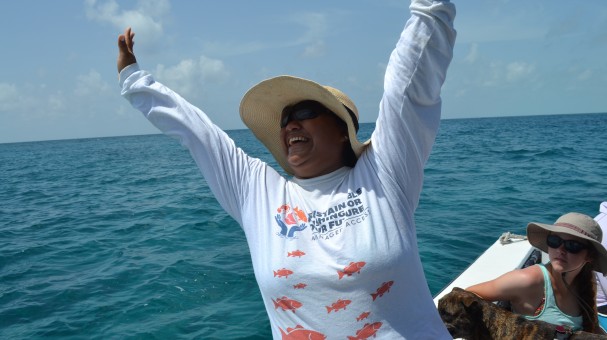 Nidia is a fisheries biologist who taught us the value of local knowledge and the power of community conservation.
After a very sad goodbye we headed back to the mainland and far into the western region of Belize to San Ignacio, near the Guatemalan border. We passed the foothills of the Maya mountains which rose from the limestone ground into a big chain. It was impressive and those limestone mountains were exactly why we were there. Within the mountains were huge caves used by the ancient Mayan people. We made it to our beautiful jungle lodge and got settled. Then we met Kevin, our 12-year-old guide who took us on a walk to a beautiful waterfall site. We had to jump in and have some serious cannon balls and splashing fun. The next day was a day like no other I have ever had. We were picked up in 2 vans and transported to an ancient Mayan cave called Actun Tunichil Muknal. We were fascinated to learn as much as we could about the Mayan culture from our guide during the drive out. Now we were here, ready to enter what the Mayans believed was the underworld of the dead. We spent four hours hiking through the cave that was filled with a running river. To say it was epic would be an understatement. We literally scrambled over rocks and saw where the ancient Mayans performed ceremonial human sacrifices. It was a little scary and fascinating all at the same time. The cave was tight and small in some spots and then open like a giant sparkling cathedral in others. Stalactites and stalagmites were everywhere and Mayan ceremonial pots were strewn all around. I have never been on a journey through such an incredible place. Indiana Jones had nothing on us.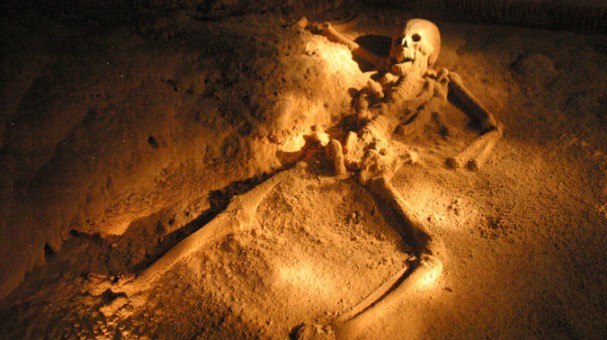 Human remains untouched for over 1,000 years inside the Mayan Actun Tunichil Muknal cave.   
After our cave experience we made it back to our jungle lodge. It was our last night together and we knew it had to end. We had dinner reflecting and talking about many things including what our most impactful thing or person was, something that challenged us the most, and what we hoped to do with this experience in the future. We talked about science and what careers in biology wouldbe like. There were some passionate moments and even some tears. It's hard to gauge how experiences like this can change you. But I do know that a little piece of every student will stay with me and Paul. And I hope we will remain with them.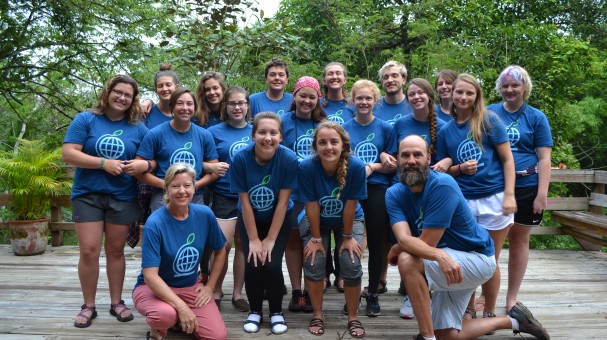 On our final morning at the jungle lodge.